Invest in Nsondole to self-reliance!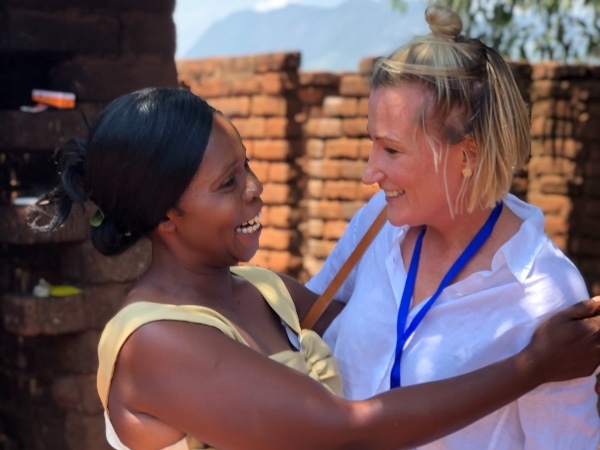 Meet Jesse. 
Anna and Andrew Baird, Founders and Directors of Bared Footwear, travelled to Malawi earlier this year and visited the Nsondole community, where they met Jesse.
Jesse sat in a beautiful gold dress in front of her house surrounded by proud family and friends who were there to share her story. Jesse is 42 years old and is married with three children.
Prior to The Hunger Project, Jesse could not feed her family and she had no income. She lived with persistent hunger in extreme poverty.
Now, thanks to the The Hunger Project and her hard work, Jesse and her family have three meals per day and her farming produces extra grain that she can sell, providing herself with a disposable income. Jesse got started through the food security program which loans farming inputs such as seed and fertiliser, together with expert farming advice. The improved techniques and inputs increased yields by five to ten times. The loan is repaid with bags of grain, which are then sold for money.
Jesse sells her excess grain and uses the income to buy food and educate her children. She recently purchased a sewing machine for her husband, a tailor, so that he can generate income by making clothes. Next month Jesse will have enough surplus income to buy a motorcycle.
The Hunger Project helped Jesse believe that with the right resources, she could end hunger in her family and start to pull herself out of poverty. The Hunger Project provided the resources and Jesse is fulfilling her vision.
The Nsondole community is on the cusp of Self-Reliance, but their success is not assured!
The Nsondole community commenced their journey in 2003 and constructed the Epicentre building in 2004. There was a gap in regular funding in the Epicentre form 2005-2018. However village partners, just like Jesse, from the Nsondole community were resilient and never lost sight of their ultimate goal - becoming self reliant.
In late 2018, a consortium of Australian investors committed to partnering with the Nsondole community and began their investment in the community from 2019. 
The last 3-4 years before reaching Self-Reliance is a critical time for the community. This is when they set targets and take strategic action to achieve them, so that they successfully reach Self-Reliance and continue on this powerful path into the future.
The people of Nsondole need our help to achieve their goals over the next 2 years. Your investment will support the training of local leaders to become fully skilled, confident and capable of managing the Epicentre's operations in a sustainable way. Your investment will also complete the roll-out as well as maintain momentum across vital programs such as agriculture development and food security, gender equality and women's empowerment, water and sanitation, functional adult literacy, and microfinance and livelihood improvements.