I am fundraising for The Hunger Project
I have always considered myself a go-getter with a zest for life.
Growing up I have been blessed with the support and love of amazing women. These women are mothers, daughters and freedom fighters in their own right. Entrepreneurs, mummaprenuers, soloprenuers and everything in between. Women, I believe, are the cornerstone of an empowered society.
As I write this, on the eve of my 29th birthday I am excited to be a part of this amazing journey!
This decision to become a part of a collective journey came from a deep need to make a difference in others lives. As a poet at heart I am reminded of the quote by Robert Frost - "A poem begins with a lump in the throat; a homesickness or a love sickness. It is a reaching-out toward expression; an effort to find fulfillment. A complete poem is one where an emotion has found its thought and the thought has found words."
I am fundraising for the Hunger Project Australia.
Myself and 19 other remarkable female leaders have embarked on a journey that will take us to India to support the work of The Hunger Project as part of the 2019 Business Chicks Indian Journey.
Any little bit helps. If you think you are too small, young or old to make a difference just try sleeping with a mosquito in the room :) (I took that from a meme).
Join me in supporting women financially as we fight poverty one journey at a time.
Your tax- deductible donation will go a long way to empower women to enact change within their own communities to create a brighter future without hunger or poverty.
I thank you for your support.
Thank you to my Sponsors
Anonymous
Dean Van Es
Gloria
Alice Sun
Caroline Haey
Monty
Sam Gale
Brooke Myers
Myanh Nguyen
Joya Wright Wright
Monica Mcguinness
Monzi
Patrice Nicolaou
Dean Van Es
Lindy Nham
Margretta Sowah
Carah And Tim Steele
Jason Dunne
Margretta Sowah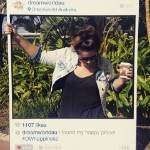 Vanessa Baldry
Patrice Nicolaou
Sally Huang
Brooke Fraser
Joya Tiana
Mary Van Es
Isabella Jackson
Lindy
Anonymous
Siobhan Doran
Jessica Costarelli
Sue Mcgregor