Changing the world, one woman, one family, one community at a time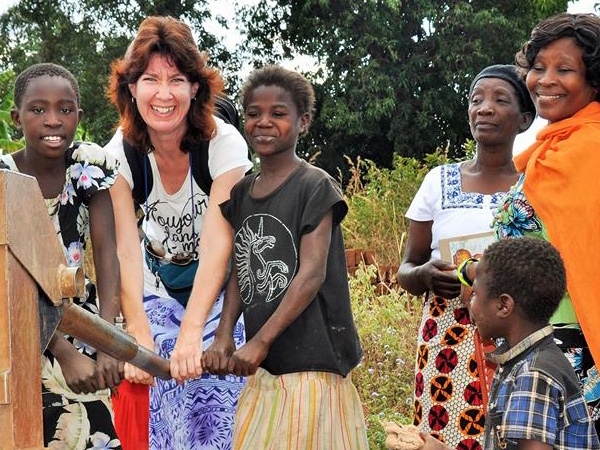 When I travelled to Malawi in 2014 with The Hunger Project what struck me most was the focus on PARTNERSHIP... and the level of dignity, empowerment and sustainable change that followed.
It was a hand up, rather than a hand out approach, encouraging and supporting women to step into their power, unleash their potential and embark on a journey of self reliance that creates positive ripples through families, and communities, for generations to come. 
My most memorable experience was visiting 'Mary', a woman living with HIV. 
Mary's husband had been pushing her to get a health check-up but she'd been scared. Scared she might have HIV. Scared if so, her husband would desert her. Scared of what would become of her children. 
However, her husband's love won through and after her diagnosis he stood by her. Together they had the courage to open up about her HIV status and receive support from The Hunger Project. 
Roll on several years... her health had improved due to the drugs she now has access to and her microfinance loan focused on buying grain and getting the financial and farming education to turn her situation around. 
This led to her food supplies increasing 500%, meaning her family was well fed ALL year round and the extra grain produced was sold with the profits allowing ALL her children to now get an education and have the opportunity to make more of their lives.  
She shone with pride and joy at what she'd achieved in partnership with The Hunger Project, and hope for what the future now held. 
What brought tears to my eyes, however, was her final statement. 
She thanked us for honouring her and her village, a group of families who all had family members with HIV/AIDS. She said we'd brought pride and dignity to them as our visit sent a clear message to neighbouring villages they too were worthy of our time. 
When in fact, her courage, vision and tenacity to make a better life for herself and her family in the face to tremendous odds, left me in awe. I was a better person for having met her!
$60 is all it takes to fund one Microfinance loan to change the world, one woman, one family, one community at a time. Will you join me? All donations over $2 are tax deductible xox
<!-- [if gte mso 9]><xml> </xml><![endif]--> <!-- [if gte mso 9]><xml> Normal0falsefalsefalseEN-GBX-NONEX-NONE </xml><![endif]--><!-- [if gte mso 9]><xml>
Thank you to my Sponsors
Bronwyn Aspinall
Jasmine Batra
Sherryn Bowers
Kathy Johnson
Cathy Burke
Jess Mester
Kathryn E Colgan
Marktwo Consulting
Roger Simpson
Sherryn Bowers
Senem
Krunal Patel
Liz Edminson
Felix & Jen
Val Bone
Mojgan Tosif
Rachel Mcleish
Elaine Bowers
Aarti Nagpal