Vamp team are fundraising for Unleashed Women!
The Vamp team are getting Unleashed for the second time!
We have been a charity partner of The Hunger Project for over a year now and share their vision that together we can empower women to change the world.
Fostering creativity, leading with respect and being fearlessly authentic are key Vamp values and are also at the heart of the powerful Unleashed Women fundraising movement.
This September will be the month of fundraising for the Vamp team.
Healthy competition: We'll be doing some fun activities in the office with each department competing against each other raise the most amount of funds for Unleashed Women.
Blogger's market: we will also be putting on a charity market stall at the Kirribilli markets on Saturday 22 September. We'll be doing a clothing drive from our influencers, brands and teams. Everything we sell at the market will go to The Hunger Project.*
5k run: we'll be jogging our hearts out in a 5k fun run with each team member raising money for The Hunger Project
*If you have any pre-loved clothing items, jewellery or even some beauty products that have never been used, you can contact us to organise a donation: hello@vamp.me
About Vamp
Vamp is a bespoke content and influencer marketing platform. Powered by best-in-class technology, we partner with the world's best brands and influencers to deliver high-performing campaigns and authentic content at scale.
At Vamp we believe in the power of social media to enact positive change and our Influencers have the influence to make their voices heard. They know how to captivate an audience, raise awareness about an issue and empower their audience to make a difference.
Vamp Unleashed 2017
Last year Vamp raised awareness and funds for the Unleashed Women campaign through the sale of limited edition Unleashed Women t-shirts. We sent the brief out on our influencer marketing platform and had nearly 100 influencers take part to help us raise money for The Hunger Project.
Thank you to our Sponsors
Vamp Fundraising Team!
Amelia Clements
Diane Camilleri
Kathryn Whiteway
Anonymous
Kim Pugh
Rob Shearing
Alice
Daniel Radovich
Anonymous
Anonymous
Paula Lennon
Alicia Holmquest
Sally Westra
Reece Moon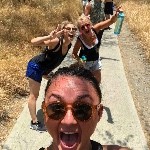 Anonymous
Kate Boyd
John Holmquest
Dannii Burnett
Robyn Bramwell
Anonymous
Dw
Anonymous
Omar Khattab
Marysia Popow
Bel Pugh
Anonymous
Darren Cook
Katrin Holmquest
Kirsty Vickers
Justine Sarin
Jenn Paros
Tim Steel
Robyn Shuttleworth
Anonymous
Brendan Bateman
Angela Popow
Rosie Fraser
Natalie Popow
Bianca Villareal
Sarah Keenan
Brendan Bateman
Anne Shuttleworth
Aslihan Konan
Mark Stamedes
Nicholas Holton
Moonie
Your Fans!
Anonymous