The importance of sisterhood, community and support
I am so grateful to receive Cathy Burke's book - Unlikely LEADERS. It has reset my thoughts, feelings and priorities in my own personal life.
I am inspired to learn about the many stories of trust and friendship between the women in the communities that The Hunger Project help and mentor.
The result of a group of women saving a little of their rice each day to collectively give together, they could then go to market with all the rice. Each time one member could take the money from the sale of the rice and follow her personal dream adding financial gain. One women purchasing chickens and selling her eggs. Another some equipment for sewing clothing. They each support one another so they all can reach thrive.
What struck me as I read is the determination, strength and heart that these women have. This is not just for their own needs, but the needs of the people that they with.
One woman stopping child brides being married to men old enough to be their fathers. Another woman bringing services like fresh water and electricity into their villages.
So many stories......
I am surrounded by many people however I notice that very few work together like this anymore. Is this something as a culture we have lost?
I am looking forward to visiting Senegal AFRICA in February. I know that the women there are going to show me the importance of community, sisterhood and support
Love Rochelle xx
Women Helping Women Event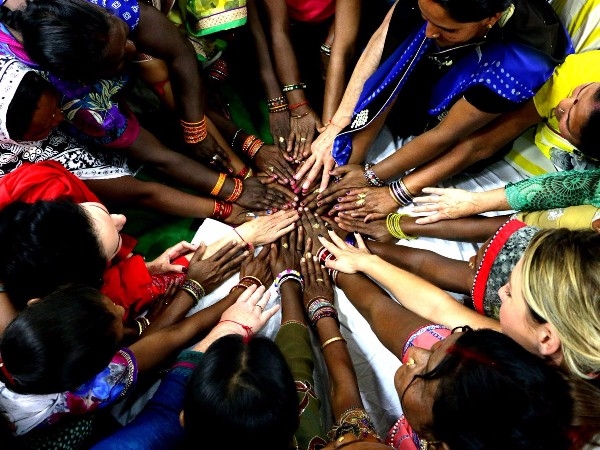 Tuesday 10th October 6.30 - 9.30pm
Morocco Lounge
157 Greville Street, Prahran
A 'girls night out' raising much needed funds for The Hunger Project. The Hunger Project work to break the cycle of poverty, beleiving that the hungry people themselves are not the problem, but the solution to ending hunger. They support, empower and teach women in starving communitites to become powerful leaders and to develop their own solutions to ending poverty and hunger in their communities.
This event promises to be a relaxed night, with good food, good drink and good company. Hear from makeup artist Peta-Gai and watch her live tutorial, learn tips on how to dress for your body and personality from stylist Kirsty and hear Deanne's advice on self-acceptance, self-love and prioritising yourself fully. Get your ticket before they sell out!
To find out more information click highlighted link below...
Love Rochelle xx
Help Me Fund 'Solutions'
I have been lucky enough to be accepted to the 2018 Business Chicks Immersion and Leadership Program. In February 2018 I will be travelling to Senegal, Africa with other program participants and partaking in a once in a lifetime experience - women helping women in the most beautiful and transformative way.
The Business Chicks Immersion and Leadership Program work together with The Hunger Project by mentoring and supporting women in starving communities across the globe to unlock their capacity, creativity and leadership - so they can end their own hunger. But the Program needs support and donations to undertake their valuable work. In applying for the Program, something in me was triggered causing me to rethink my purpose and my own being.
I saw me and my connection to something much bigger. It became perfectly clear what I needed to do and how I was going to do it.
For some time I have struggled .... struggled with being overweight and eating for all the wrong reasons.
And so a crazy idea was born and I created a Pozible campaign 'What are you REALLY hungry for??? I have pledged to shed at least 20 kilos by the end of 2017 and raise funds for The Hunger Project in doing so. I kicked off my pledge 1 August 2017.
I have reached my goal of $3,000 being raised in this campaign - Thank you to all my Sponsors
I am not just losing the weight for me, I am losing the weight for a much greater purpose. I will be documenting my journey through a Facebook group so those that sponsor me on Pozible can keep up to date with my progress.
On top of this, I have also shifted the focus of my own business and product lines and am now putting 100% of proceeds to worthy causes, to work towards 'solutions', such as The Hunger Project. I am busily planning a number of exciting events to raise funds for the Business Chicks Immersion and Leadership Program. Join my community to receive information and exclusive invites. Visit my website. I have just started taking my products at wholesale into retailers and very pleased that my products and this great cause is being embraced.
I am excited to partner with the 2018 program and make a difference, leading women towards their own solutions.
Love Rochelle xxx
Note - I am PERSONALLY paying for my own airfare and accomodation during this Leadership Immersion Trip. All money raised and donated will go directly to The Hunger Project and the 2018 Senegal Program.
Thank you to my Sponsors
Pozible Campaign
Women Helping Women Event
Rosie Banyan Product Sales By Rochelle
Rosie Banyan Product Sales
Banyan Tree Wisdom Product Sales
Anonymous
Anonymous
Product Sales - Rosie Banyan By Rochelle
Amanda Noble
James Heveren
Elliott
Nick Bibes
Anonymous
Hannah
Sandie Meech
Elliott Kk