Trivia Night supporting The Hunger Project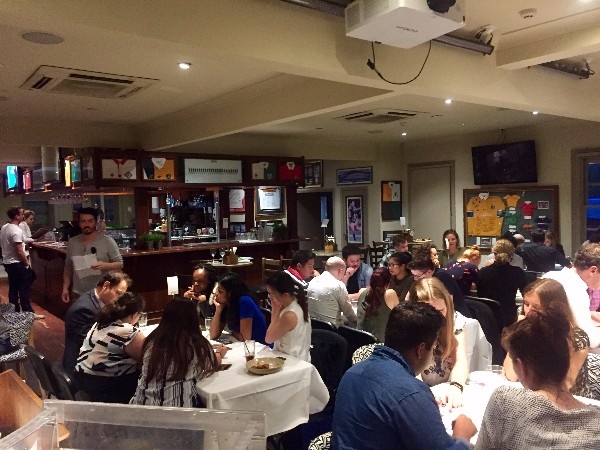 Thank you to all who attended my trivia night fundraiser! It was a great night and with your support we raised $2,093 for The Hunger Project.
An extra special thanks to the night's quiz master - Nick Jones!
And also a huge thank you to those who generously donated prizes:
Radisson Hotel Sydney - thanks Bec!
The Dermal Diary - thanks Isabella!
Cafe Morso - thanks Melinda & Andrew!
And also prizes donated by Virginia & Rob Sandell, Kim Kelloway and Tom Coe.
A Sunday well spent - yoga class fundraiser at Body Ethos
On Sunday 3 December Body Ethos Balmain kindly hosted a yoga class to help me fundraise.
Thank you to my friends and family for attending, and a big thank you to Kylie and Katy at Body Ethos for organising! Katy lead us in an amazing class that focused our intentions on compassion and the power of the collective.
Thank you to all my Melbourne Cup raffle sponsors
Thank you to all my Melbourne Cup raffle sponsors!
Thank you to my employer HLB Mann Judd for donating first prize of a day off work - a one of a kind prize!
Thanks also to:
And a huge thank you to all my colleagues for supporting the raffle - wishing you all the best of luck!
**UPDATE**
My Melbourne Cup Raffle raised $1,980! Thank you to all my colleagues for making it a huge success.
What does The Hunger Project do?
The Hunger Project's goal is to end world hunger by 2030. The Hunger Project's approach is different – they shift the mindsets of women and men so they transform into leaders for the sustainable end of hunger. Then, through The Hunger Project's programs such as education, microfinance, agriculture and health, they empower people with the skills, knowledge and resources they need to break the poverty cycle themselves.
Donations to The Hunger Project have a powerful impact in empowering people to change their lives.
$25 could educate 20 mothers about locally available nutritious food they can feed their babies and prevent malnutrition.
$50 could fund functional adult literacy training for two women so that they can learn to read and write.
$230 could train one Elected Woman in India to be an effective local council member and ban child marriage in her village.
$1000 could provide 16 women with a microfinance loan and financial literacy training so they can start a small business, earn an income and support their families.
$2500 could train 21 volunteer leaders who will educate families about the importance of keeping their daughters in school so that they marry later.
$5000 could train 42 local volunteer leaders who will educate mothers about the importance of pre-natal care to ensure their babies are delivered safely.
I've reached my first $1000!
As part of this journey I'm reading 'Unlikely Leaders' by Cathy Burke, former CEO of The Hunger Project Australia. In her book she quotes an old proverb which says: 'If you want to travel fast, travel alone. If you want to travel far, travel with others.'
Thank you so much to all my supporters - this is a big challenge and will only be possible through the power of the collective!
I am Fundraising for the Hunger Project Australia. Myself and 19 other remarkable female leaders have embarked on a journey that will take us to Senegal to support the work of The Hunger Project as part of the 2018 Business Chicks Senegal Journey. Your tax- deductible donation will go a long way to empower women to enact change within their own communities to create a brighter future without hunger or poverty. I thank you for your support.
Thank you to my Sponsors
Charlotte Sandell
Trivia Night Ticket Sales
Trivia Night Raffle
Simon
Stephen
Aidan Smith
Unwanted Items Sale
Anonymous
Elizabeth G
Bec
Michael Johnston
Ridhwaanah Iffat
Paula Shirley
Ivana Tranchini
Donna Emsies
Matt Fenner
Michael Thurgood
Graeme Tyshing
Taichi Hoshino
Anonymous
Kaylie Reyes
Sarah Fox
Max And Tom
Tom Coe
Charlotte Sandell
Andrei Adams
Kathryn
Sophie Eakins
Eileen & Ciaran
Virginia Sandell
James Friend
Andrya Mckinlay
Rosemary Wade
Maggie Lloyd
Adelaide
Zhengchong Olivia Xie
Adam Stevens
Courtney Dean
Daniel Dalla
Amanda Sweeting
Silvia Wade
Fiona Donaldson
Lindzi Caputo
Leah Royle
Amy Johnson
Danmei Huang
Maria Sfirse
Sarah Scicluna
Di And Geoff
Daniel Weiner
Clara Adolphs
Rachel Donnelly
Anonymous
Sally Messenger
Jenna Kessing
Mary Maclennan
Rebecca Wheeler
Alexandra & James Kanabar
Luisa Giannone
Jo Power
Tara Donnelly
Deb Huff
Mark Simonson
Tabitha Browne
Kate & Jt
Anonymous Donation
Mauricio Casas
Warrick Oakes