Together we can do this!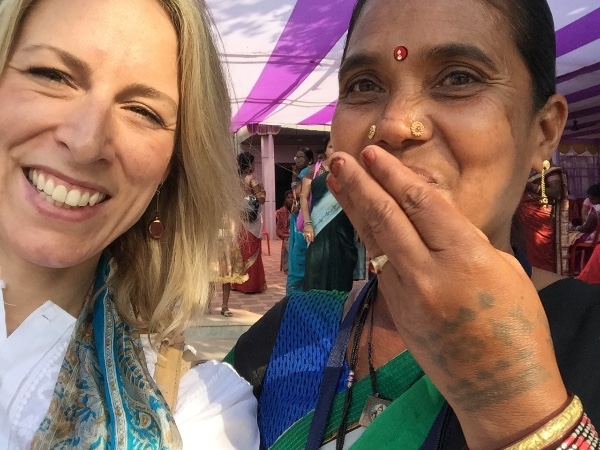 This is Shantilla. We were in India together in 2015. I had travelled with THP as part of their staff at the time. Shantilla had a powerful presence. She was one of the elected women representatives trained by the hunger project. Her mindset was formidable. She lobbied her community to help stop sex selective abortions, children being sold into early marriage and rape. When asked, what did she fear? She answered, "I have nothing to fear. I have a responsibility to the people I am representing. They chose me for a reason. They are relying on me and I will be a voice for them, no matter what."
That's leadership.
For those who know me, you know that The Hunger Project is dear to my heart. Having worked for them, I have seen first hand the work that they do. This is a not for profit like no other. They believe that the hungry themselves hold the solutions to ending their hunger. They don't believe in simply giving alms. They believe in changing mindsets, empowerment and education, encouraging those who appear to be unlikely leaders to mobilise power within their collective.
Now I am charged with doing the same. As part of the collective that I know, will you help me in ending world hunger?
Thank you to my Sponsors
Lynda Bayada
Lynda Bayada
Lynda Bayada
Plastiflex Australia
Lynda Bayada
Lynda Bayada
Carol Atkiss
Nin Yoga
Lynda Bayada
Tara Donnelly
Keith Kempis
Symon Brewis-weston
Lynda Bayada
Chantelle Hocking
Nick M
Paul Dwyer
Tracy Bell - Savvybooks
Paul Bayada
Your Favourite Brother (and Sister Inlaw)
Lynda Bayada
Lauren Edwards
Katrina And Brendan Dagge
Nicole Mccormack
Ruth Lyons
Kara Grant
Lyn Schneider
Lynda Bayada
Teneal Rimmer
Julie Stuart
Sarah Phillips
Tracey Christensen
Lynda Bayada
Lisa-marie Croning
Dane Tomas
Nicole Amdur
Olivia Ruello
Peta Muller
Lynda Bayada
Charlotte Sandell
Guy Vicars
John And Isabella Duffett
Byndi
Kristine Cook
Tracey Christensen
Sharon Holstein
Zoe Emanuel
Nevena Krups
Elise Kovacs
Vanita Jehan
Stacey Rosenfeld
A.s.
Millie Allbon
Natalie Hicks
Marty,ann,kate & Amy Brunger
Sarah
Lynda Bayada
Tara Scott
Susan Chiriboga Allnutt
Lauren Falk Major
Ben Bayada
Anonymous
Jordan Catanzaro
Anonymous
Emma Whitaker
Mylinh Tran
Heidi Firth
Deb Huff
Megan Webster
Anastasha Deyour
Trent Sutton
Tara Donnelly
Kevin Orchard
Manja Christensen
Marilyn Valli
Lynda Bayada
Deb Huff
Anonymous
Sally Gole
Anonymous
Anonymous