Let's make a difference together!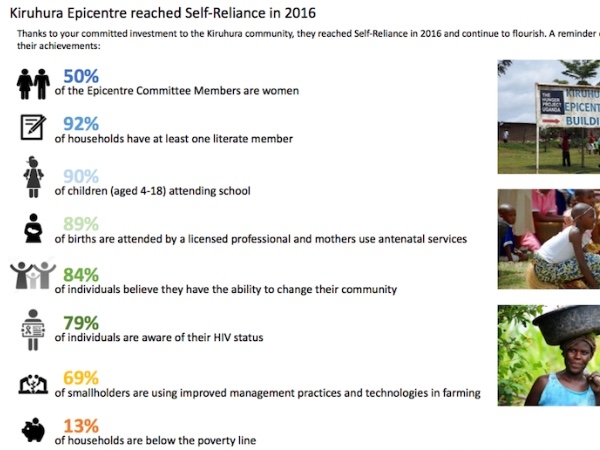 The Hunger Project is a global movement that has been extraordinarily effective in not just alleviating hunger but ending hunger & poverty for millions of people in communities in sub-Saharan Africa, India, Bangladesh & Latin America.
With a philosophy of empowering hungry people to create their own solutions to transform their conditions and a methodology focused on women as the key to development, The Hunger Project impacts millions of people in India, Bangladesh, 9 countries in sub-Saharan Africa and in Latin America.
The Hunger Project's methodology of people-centered development is analogous to the best educational philosophies: people being the authors of their own future. The image attached demonstrates the impact of The Hunger Project at Kiruhura Epicentre in Uganda.
I believe that in students discovering The Hunger Project, they will also discover that each of us can make a real difference and impact on the future of our society.
The Hunger Project website (www.thp.org) is an invaluable resource with many curriculum connected articles ideal for Australian High Schools or I.B. for Health & Human Development, Geography, Environment, Politics & International Studies, Economics, Women's Studies etc.
Please see below some links to some relevant resources – there is a wealth of additional information for teachers & students from years 7-12.
http://www.thp.org/news-and-headlines/
http://www.thp.org/our-work/where-we-work/africa/
I would love to assist personally any school that would like to create any fundraising events and link this with some personalised assistance in linking Hunger Project information in with curriculum. I will also make myself available as an expert guest speaker for a limited number of schools who take on a major fundraising target.
Contact me direct: rick@booklegger.com.au 0418 378 246